Taste our family's legacy in every bag of Mr. Buck's
Family: it's a name, a history, a way of doing things, a reputation held up in ideals like honesty, integrity, hard work and pride in giving back to family and the community. My father – affectionately known as Mr. Buck – has been in the Vidalia® sweet onion business for more than 35 years. From farming to seed development, Mr. Buck has helped create some of the most popular Vidalia onion seed varieties planted in the industry today. When I restarted the family farm in the mid-1990's, it was important to me to carry on the farming traditions and work ethic my dad passed down.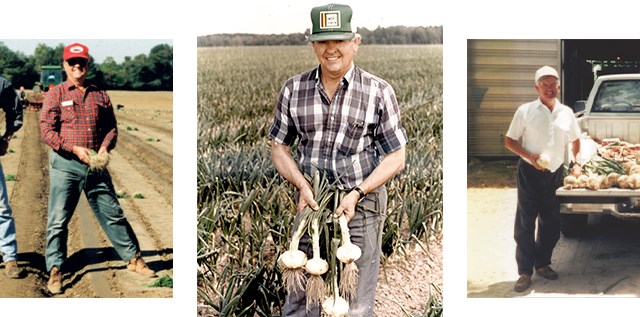 A born entrepreneur, in the 1960s my father started the first Shuman business, Shuman Fertilizer. He owned 4 retail locations where he sold fertilizer, seeds and supplies to local farmers. In the 70s, in addition to his fertilizer business, he also began farming in his hometown of Reidsville, Georgia, and by the 80s he was growing vegetables such as onions, bell peppers, cucumbers, cabbage and more. Later, in the mid-80s he grew his very first crop of Vidalia onions and began a legacy he is now famous for.
Through the 80s there were some tough times, as many farmers were hit hard by the National Farm Crisis, including my dad. He was able to keep the business open for a few more years, until 1994 when he had to close Shuman Fertilizer.
Never one to give up easily, in the 90s Mr. Buck became a Vidalia onion seed representative for the largest distributor in the sweet onion industry, D. Palmer Seed Co. Over the next 6 – 8 years, he developed some of the great Vidalia varieties the region became known for, such as the Miss Megan (named after his granddaughter) and the Sapelo (named after the Sapelo River on the Georgia coast where my father liked to fish). Sapelo is now known as a cornerstone of the Vidalia industry and is one of the most widely planted varieties.

While my father was busy developing world-famous Vidalia onion varieties, my sincere admiration for his hard work, dedication and love of the land inspired me to restart the family farming business after graduating college in 1994. Dad used his experience and reputation to introduce me to a lot of great friends and contacts in the industry, which helped me get the business off the ground.
In 2013, dad was inducted into the Vidalia Onion Hall of Fame for his efforts in protecting and promoting the name and high quality of the Vidalia onion.
Today, I am honoring my Dad and our family's legacy by introducing the Mr. Buck's brand of Vidalia onions. I hope our products will convey everything Mr. Buck stands for: his love of the land, his friendship to everyone, his smile, his integrity, and of course his appreciation for the sweetest onions in the world.

Prep & Storage Tips